New chip = even greater detail in
Full HD
Video provides great proof. But in order to take advantage of it, your dashcam must be able to take sharp shots in any situation. Thanks to its new chip, the improved TrueCam A5s is perfect for the job. You can rest assured that you'll have a clear and smooth recording of your journey in Full HD, with easily recognizable license plates, traffic signs and faces
Fixed speed cameras

won't take you by surprise

The TrueCam A5s will save you money on fines. With built-in GPS and an extensive database of more than 40,000 speed cameras in 36 countries, you'll be alerted in time when approaching. Plus, with the number of speed cameras constantly on the rise, you'll get free updates. The GPS module also means you can view the route later in Google Maps with the current speed and location stamped directly on the video. This will give you clear proof you weren't breaking the rules.

More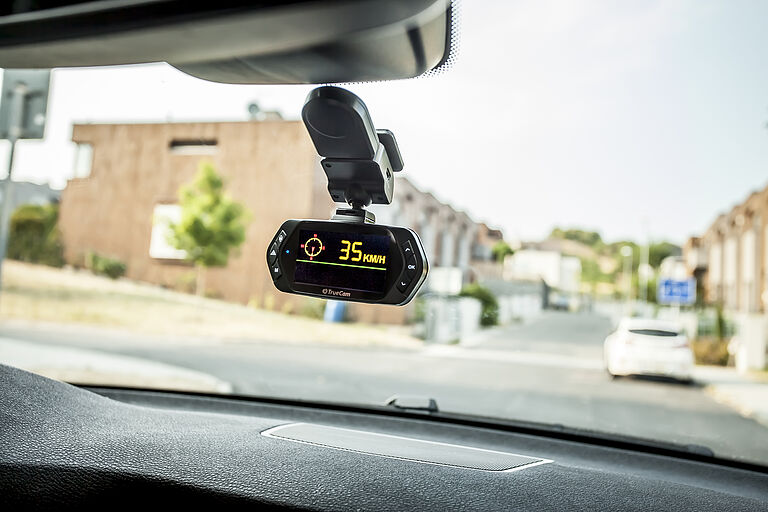 Ready to go
in seconds
Attaching the dashcam to your car is easy. When installing it for the first time, just attach the mount, ensuring the camera doesn't obstruct your view, connect the cables and you're done. As it's a mount with an integrated power supply, you just start the car and the recording begins automatically without you needing to do a thing, and you'll be fully protected on your travels.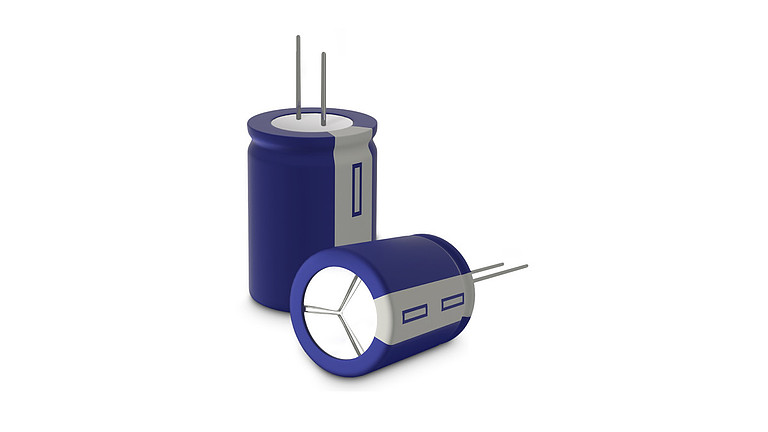 The power of
a battery and a supercapacitor
Behind the windscreen there is extreme heat in summer and frost in winter. This doesn't do batteries any good. That's why we've put a supercapacitor in the TrueCam A5s, which is unaffected by temperature fluctuations and has a long service life. Normally a dashcam using a supercapacitor must be plugged into the power non-stop, but we've also added a battery, so you get the best of both worlds and can take shots with the camera outside the car.
More
Clip

on the windscreen or dash

The TrueCam A5s will adapt to every vehicle. With 180 ° image rotation it doesn't matter if you clip the camera on the windscreen or flip it over and place it on the dashboard. More options make it easier for you to choose the ideal place for the camera where it won't get in your way and where the cables can easily run to. The menu and the resulting video rotate automatically.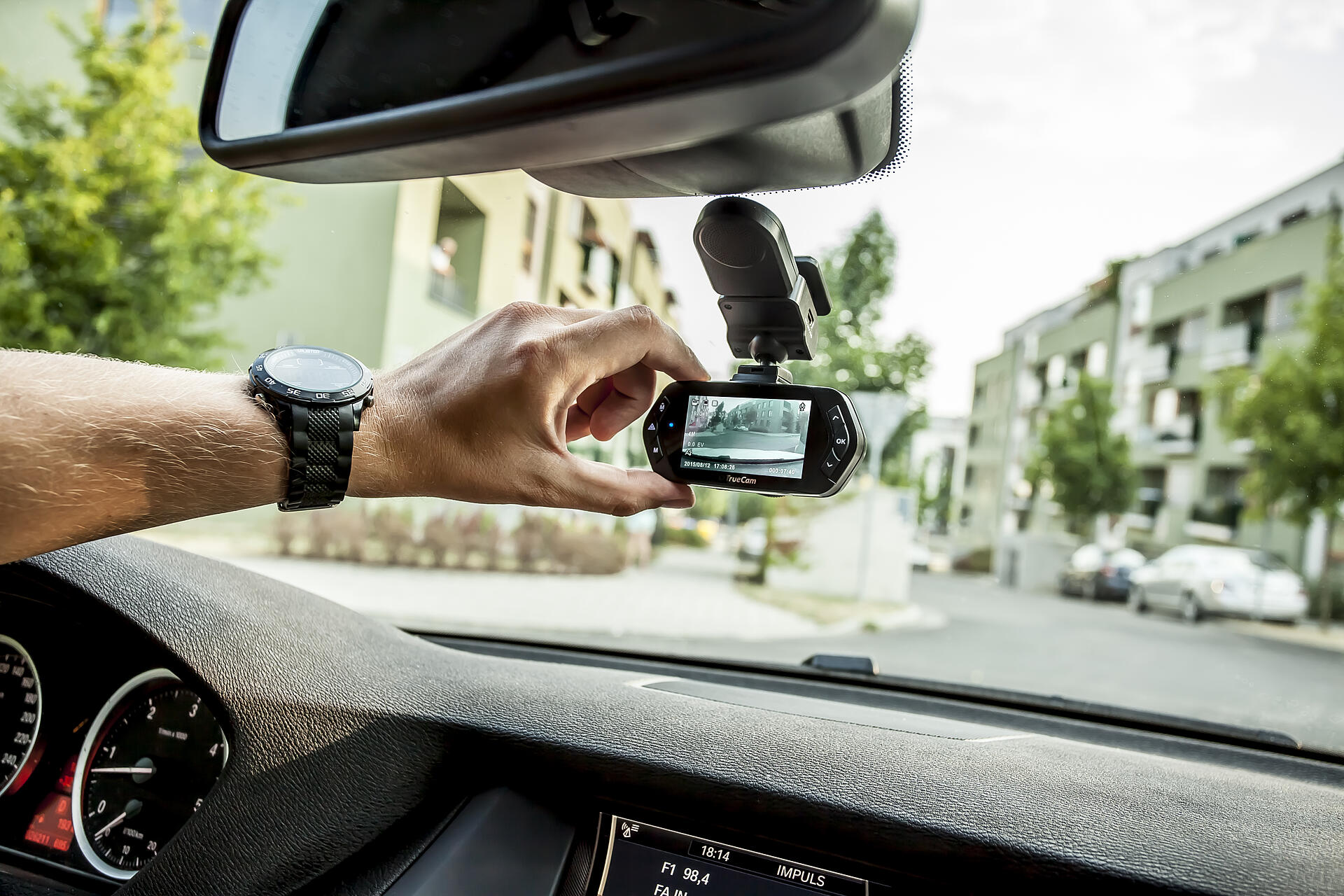 TrueCam A5s
It has everything

a proper dashcam should
Motion detection
Whenever the sensor detects movement, the dashcam will automatically start recording all events in front of the car, even while you are away.
More
G-sensor
The G-sensor records the direction you travel in three-dimensional space. This allows it to detect a sudden impact and automatically lock the current shot against being overwritten whilst loop recording.
More
Loop recording
When the memory becomes full, the camera will automatically overwrite the oldest shots. So, there is no need to delete files manually, the camera will take care of it for you.
More
Video protection
To prevent loop recording from overwriting an important shot, at the tap of a button the current recording will be archived to a protected folder.
More
English menu
The menu is intuitive and completely in English. Everyone can operate and set up the camera without a problem.
Auto-start
Whenever the camera detects a power supply, it automatically turns on and starts recording. You won't have to worry about switching it on.
Demonstrations of driving

with a camera
TrueCam A5s during the day in normal weather

Sample shots from a TrueCam A5s dashcam while driving at night
Pack

contents
1

TrueCam A5s dashcam

2

GPS module

3

Mount with 3M adhesive pad

4

Suction cup mount

5

DVR

6

Car cigarette lighter adapter with two USB outputs

7

3 metre mini USB power cable

8

3M power cable clips (5×)

9

Replacement 3M adhesive pad for reattaching the mount to the glass

10

Protective case for storage and carrying

11

Data USB cable

*

Polarizing filter (optional)

**

UV filter (optional)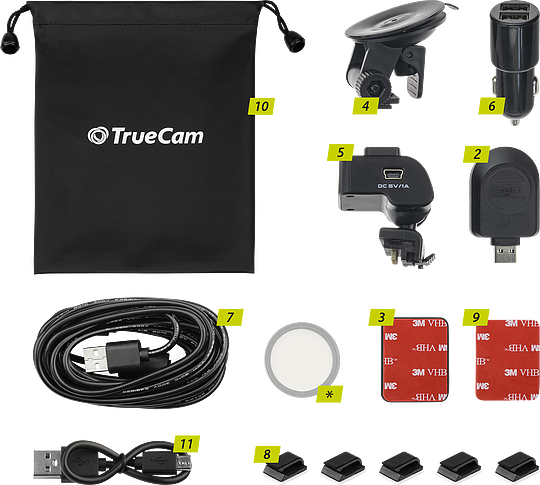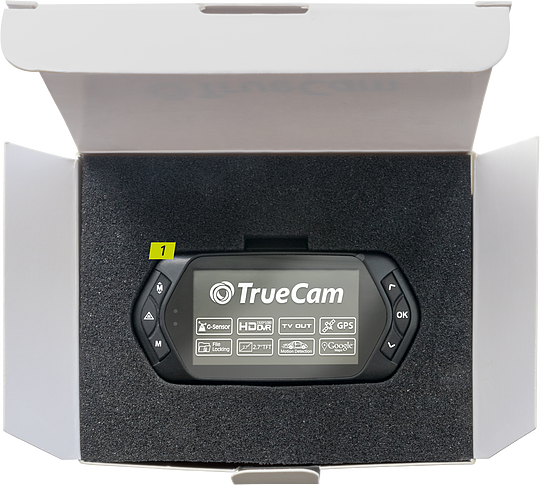 Technical
specifications
Video resolution
1920×1080/30 fps 16:9
1280×720/30 fps 16:9
Viewing angle at 1080p
130°
Format and compression
MOV Format
Compression H.264
Sound
Built-in microphone, disable button whilst recording or in the menu
Speed camera alert
optional
G-Senzor
YES
Option to adjust sensitivity
Interchangeable filters
optional (CPL and UV filters)
Micro SD slot
up to 64 GB
Loop recording
YES
Continuous video without loosing a second
Automatically overwrites oldest file
Select loop lenght
Locking files against overwriting
YES
Turn function on at the touch of a button whilst recording
Auto start
YES
Support auto start when powered on
Automatic shutdown when powered off
Display date and time
YES
Option to turn off
Display speed in video
YES
Option to turn off
Display location in video
YES
Option to turn off
Motion detection
YES
Option to adjust sensitivity
Language
Czech, English, German, Polish, Hungarian, Slovak
Charger - input
12 - 24 V
Charger - output
5 V / 1 A
Dimensions
103 × 51 × 40 mm
Operating temperature
-10°C ~ +50°C
Více informací - cookies