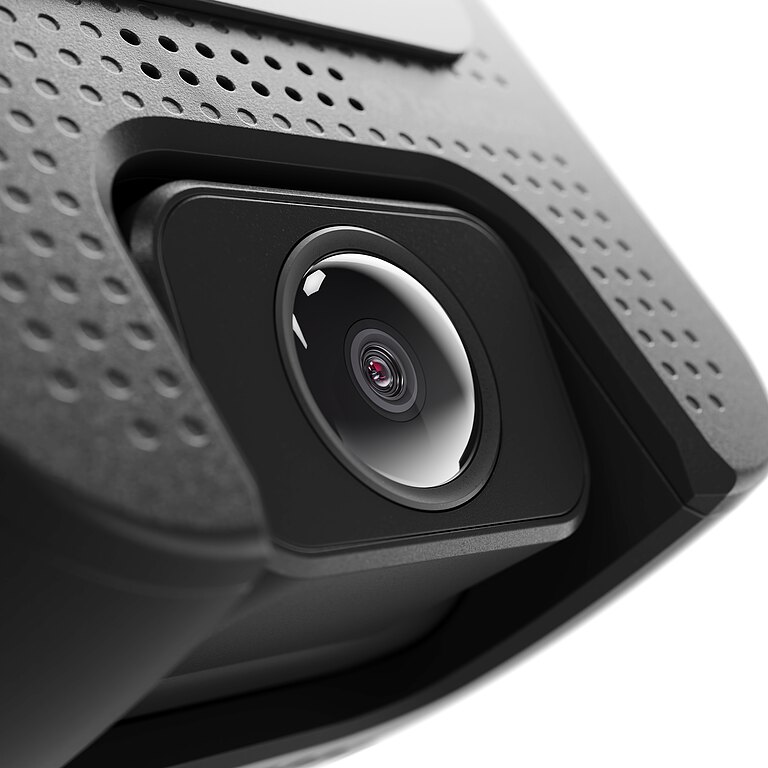 Every inch of the road
in 4K
Unsurpassed and by far the best video quality ever used in a dashcam, the TrueCam H25 with ultra-high 4K resolution delivers unrivalled shots of every drive day and night. License plates, faces and road signs always remain clearly legible and it won't matter where or how fast you go with 55 fps at 2.5K delivering perfectly smooth video even from the race track.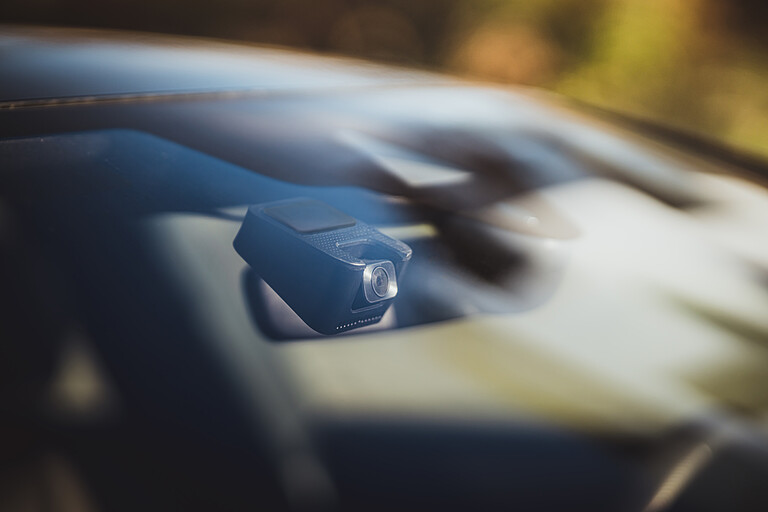 ParkShield® advanced 24h parked car protection
No more worrying about vandalism or a hit and run when parked up! With ParkShield®, your parked car is always carefully guarded, leaving you to get a sound night's sleep. The ParkShield® feature automatically turns on when you park, and it begins recording whenever the camera detects an impact or movement in front of the lens. Select Timelapse and you can let the camera record all night long. The video will be up to 60× faster, recording everything important while taking up minimal space on the card. Just leave the camera connected to power and the evidence is yours.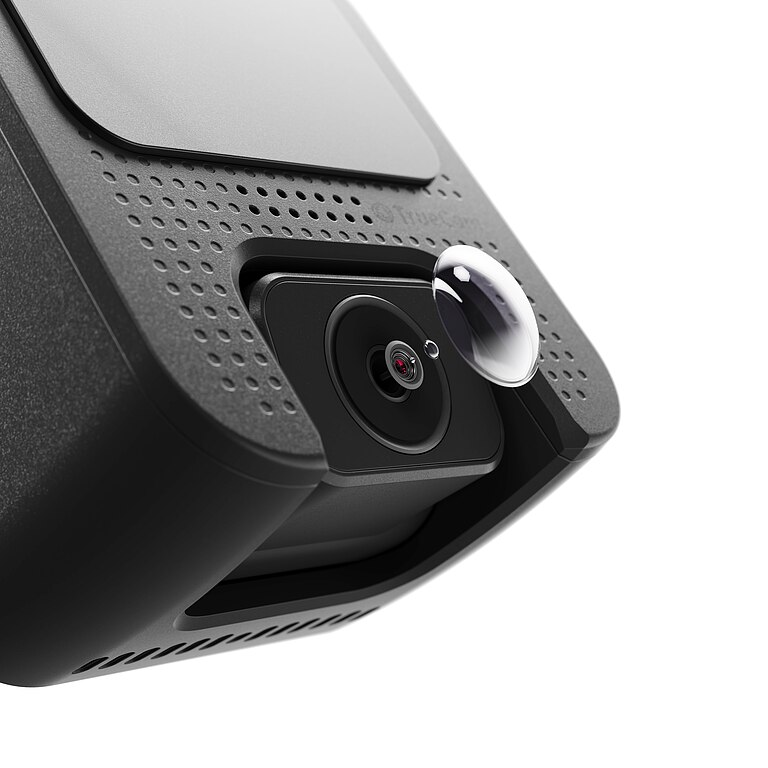 TrueBright® for perfect night shots
Combination of a low-light mode, auto brightness, WDR, a super high-quality 7G lens with 1.8F aperture, and a back-illuminated CMOS sensor makes this camera the best in its class. When the others begin losing detail, the H25 still has plenty to offer.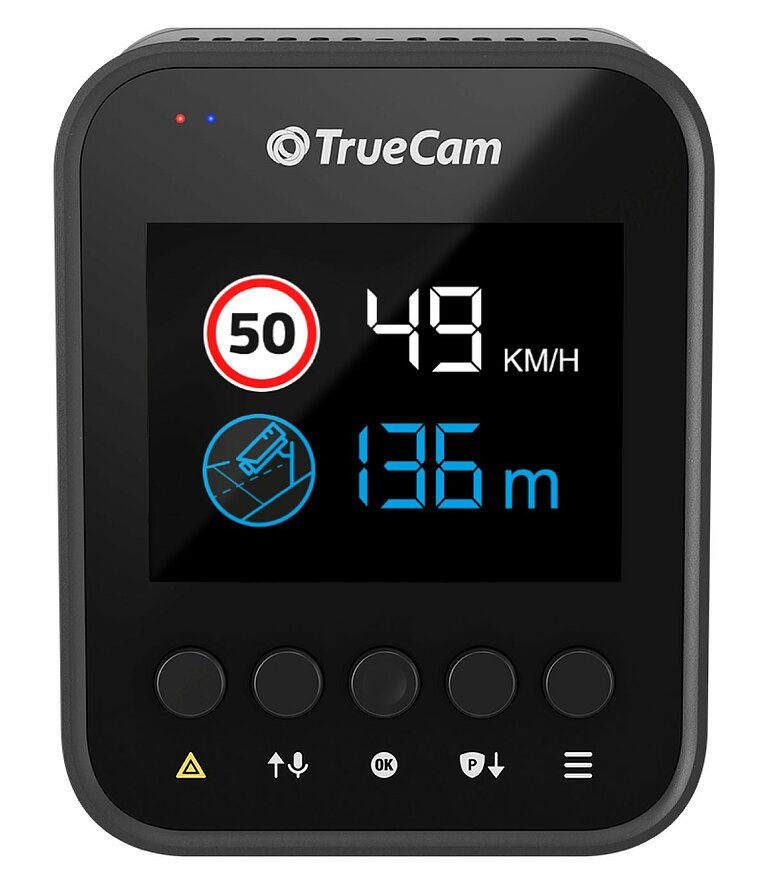 Is there a speed camera coming up? You'll
know

about it

Our dashcam alerts you to more than 40,000 speed cameras across Europe, giving you plenty of time to slow down. No more risk of fines if you forget to ease off the accelerator or when driving through unfamiliar places. Plus, we regularly update the database free of charge.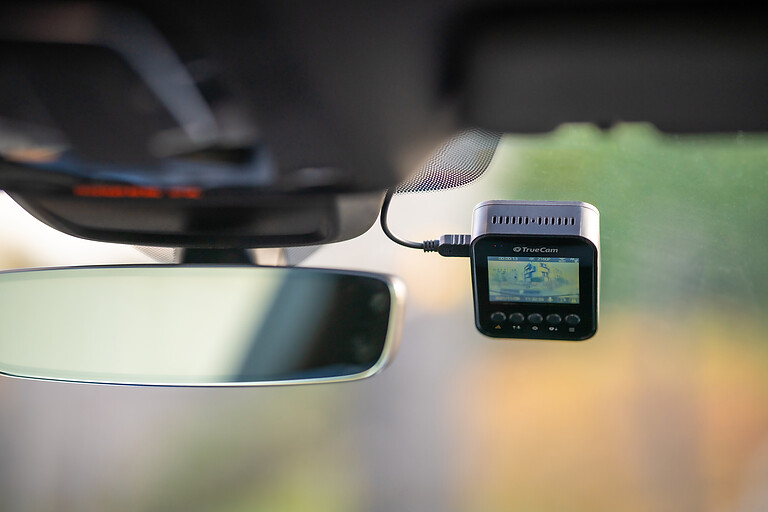 Your
discreet

guardian

The TrueCam H25 GPS 4K will become your secret weapon in traffic. With its discreet and compact design, it won't attract unwanted attention on the windscreen, won't tempt would-be thieves and won't distract you or obscure your view while driving. Despite this, the camera is simple and convenient to operate using the 5 multi-function buttons located below the display.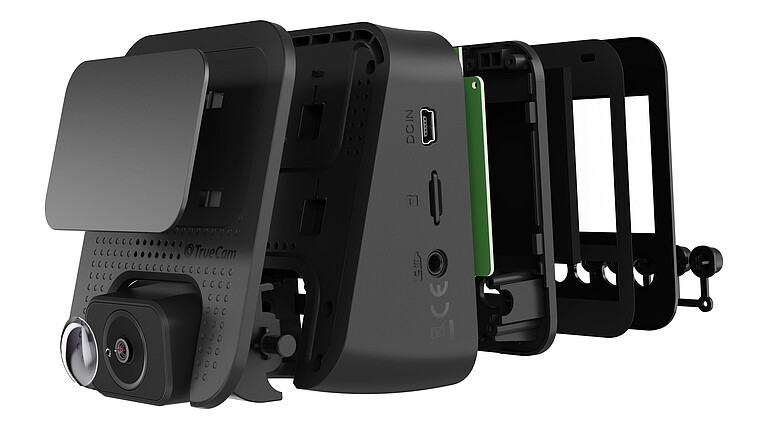 Long life thanks to the
supercapacitor
The battery is often the Achilles heel when it comes to dashcams, as rapid temperature changes and constant power supply quickly shorten its life. That's why we replaced it with a reliable supercapacitor which doesn't suffer these problems and lasts virtually indefinitely.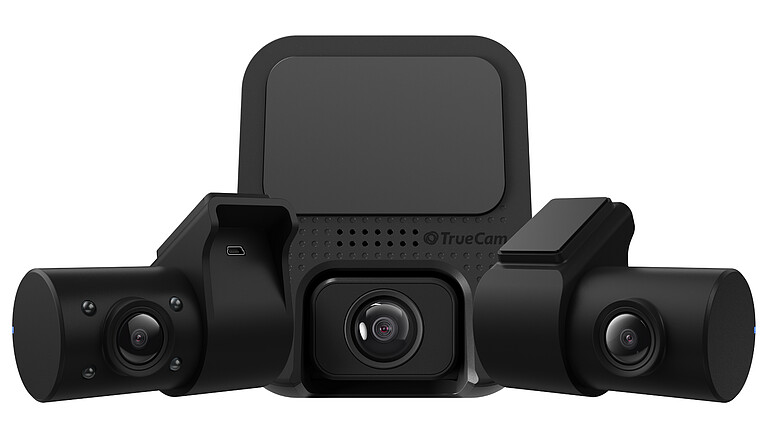 Additional rear cameras -
more cameras

see more

Make the most of the TrueCam H25 GPS 4K by connecting a second camera. Choose from a rear Full HD camera to record everything that happens behind your car or if you want to keep an eye on your crew, connect the interior IR Full HD camera, which uses infrared technology to perfectly see the dark interior of your vehicle.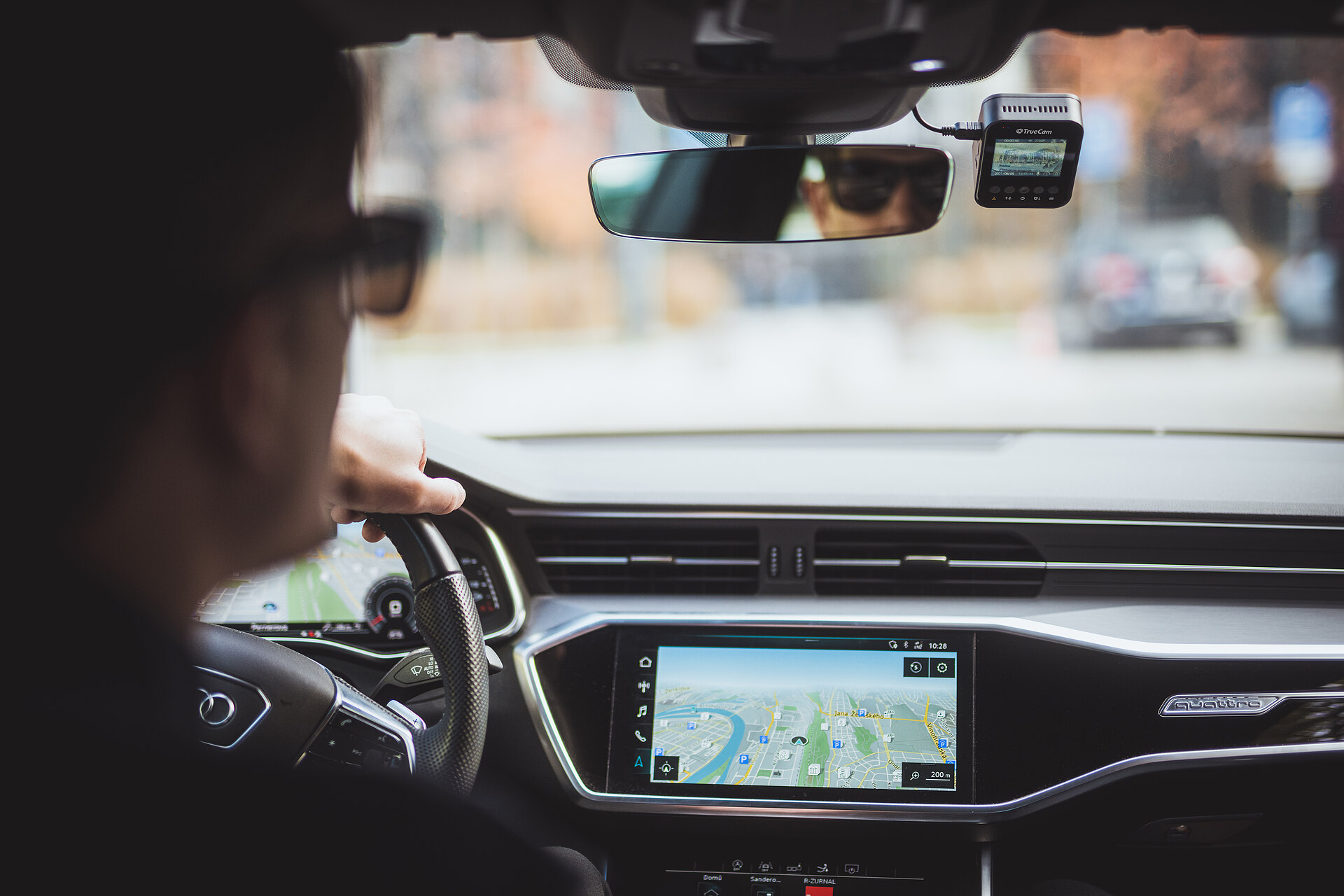 TrueCam H25 GPS 4K
It has everything

a proper dashcam should
G-sensor
The G-sensor records the direction you travel in three-dimensional space. This allows it to detect a sudden impact and automatically lock the current shot against being overwritten whilst loop recording.
More
Loop recording
When the memory becomes full, the camera will automatically overwrite the oldest shots. So, there is no need to delete files manually, the camera will take care of it for you.
More
Video protection
To prevent loop recording from overwriting an important shot, at the tap of a button the current recording will be archived to a protected folder.
More
Mobile app in english
The camera is controlled via a mobile app. It is intuitive and completely in English, making it easy to use for all.
Auto-start
Whenever the camera detects a power supply, it automatically turns on and starts recording. You won't have to worry about switching it on.
Demonstrations of driving

with a camera
Demonstration of driving with TrueCam H25 GPS 4K during the day

Demonstration of driving with TrueCam H25 GPS 4K camera at night
Pack

contents
1

TrueCam H25 GPS 4K

2

Car adapter with extra Fast Charge output

3

Mini power USB cable

4

USB cable for PC connection

5

3M cable clip (5×)

6

Micro SD/USB adapter

7

Electrostatic sticker for easier removal of the holder (2×)

8

Replacement 3M adhesive pad (2×)

9

Protective case

10

Trim tool

*

Rear camera (optional)

**

Interior IR camera (optional)

***

Hardwire kit (optional)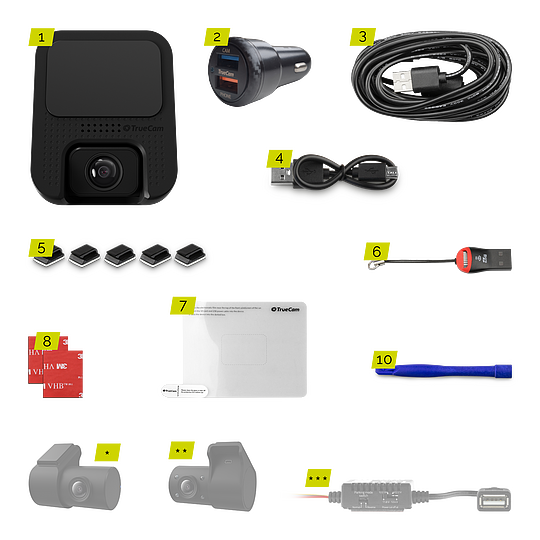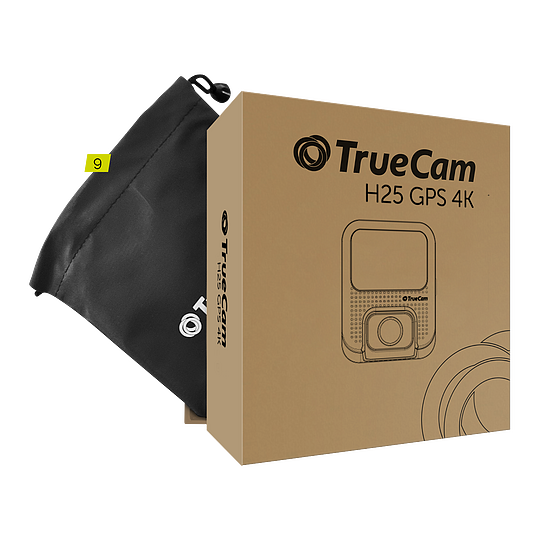 Technical
specifications
Video resolution (front camera)
1920×1080/30fps
Viewing angle at 1080p
160°
Rear camera 140°
Format and compression
MP4 Format
Compression H.264/H.265
Sound
Built-in microphone
Display
2,31″ 320 × 240 px option to switch off
Interchangeable filters
no
Micro SD slot
up to 256 GB
Loop recording
YES
Continuous video without loosing a second
Automatically overwrites oldest file
Select loop lenght
Locking files against overwriting
YES
Turn function on at the touch of a button whilst recording
Auto start
YES
Support auto start when powered on
Automatic shutdown when powered off
Display date and time
YES
Option to turn off
Display speed in video
YES
Option to turn off
Display location in video
YES
Option to turn off
Language
Czech, English, German, Polish, Hungarian, Slovak
Other features
Autostart, Loop recording, Motion detection, ParkShield®, Timelapse, G-sensor, Time-stamp (optional), GPS-stamp (optional), Speed-stamp (optional), Driver name in video (optional), Screensaver (black screen, speedometer), Speed units kph or mph, Automatic summer time, Recording protection, Night mode, Sound recording with switchable option, Time zone selection, Memory card format reminder
Smartphone app functions
Basic settings, Start / stop recording, Take a photo, Preview front/rear camera, Play videos, Download videos, Edit videos
PC application functions
Show route on map, View GPS data (speed, coordinates), date and time, Zoom in, Create photo
Ports
WiFi 2.4 GHz
WiFi 5 GHz
Mini USB
Micro SD / USB adapter
Charger - input
12 - 24 V
Charger - outputs
5 V / 2,4 A
5 V / 3 A
Dimensions
65 × 81 × 43 mm
Operating temperature
-10°C ~ +50°C
Více informací - cookies