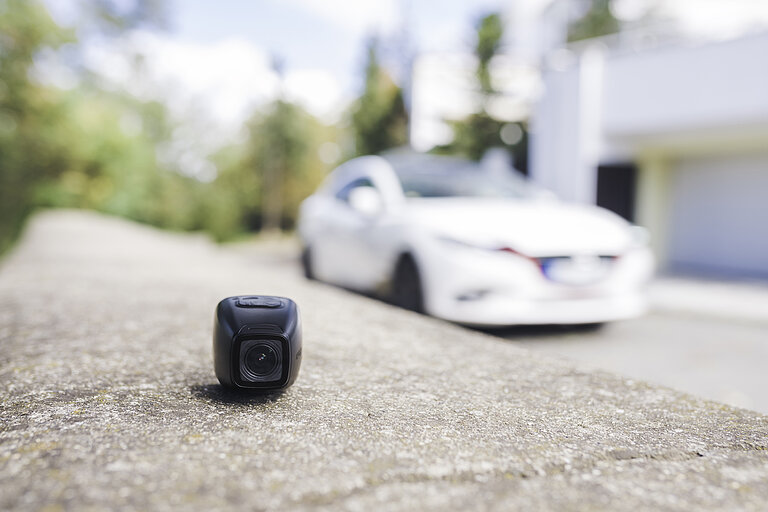 Clear shots in
Full HD
Despite its small size, the Truecam H5 does not compromise on video quality. Shots can be taken up to a resolution of 1080p, enabling it to capture even small objects. Fast movements remain smooth on the recording thanks to the high frame rate of 30 FPS. Plus, at the lower HD resolution of 720p, the camera can record at up to 60 frames per second.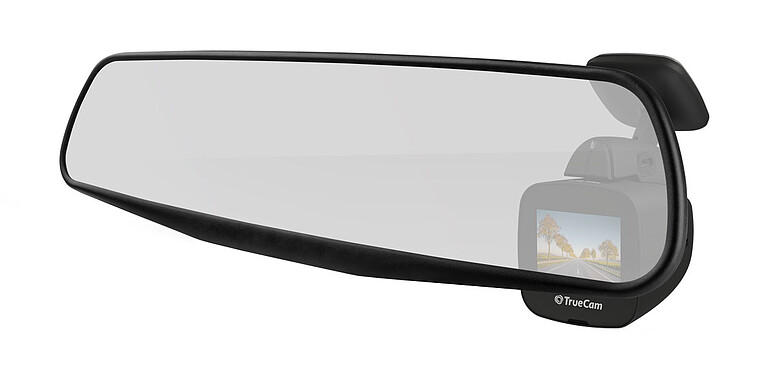 Discreet

design

The camera body is compact with a matte finish, so it won't attract unwanted attention. This is handy if you want to leave the TrueCam H5 in the car when parked, for example, in front of a shopping centre. Passers-by will hardly notice it at all. Likewise, it won't distract you whilst driving and definitely won't get in your way.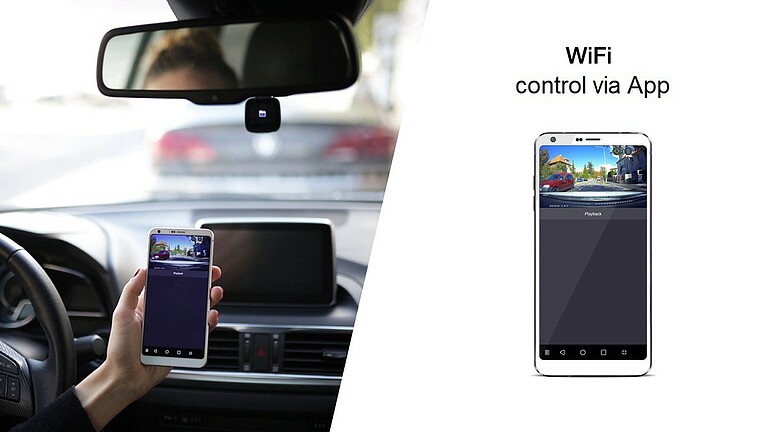 Video footage is transferable via
WiFi
TrueCam H5 footage can be transferred via the built-in Wi-Fi. Simply pair the camera to your smartphone, and, using the app, you get instant access to your dashcam footage. The app is available for all phones and tablets running Android or iOS, and it enables the camera to be controlled remotely so you can turn it on, stop recording or adjust basic settings.
More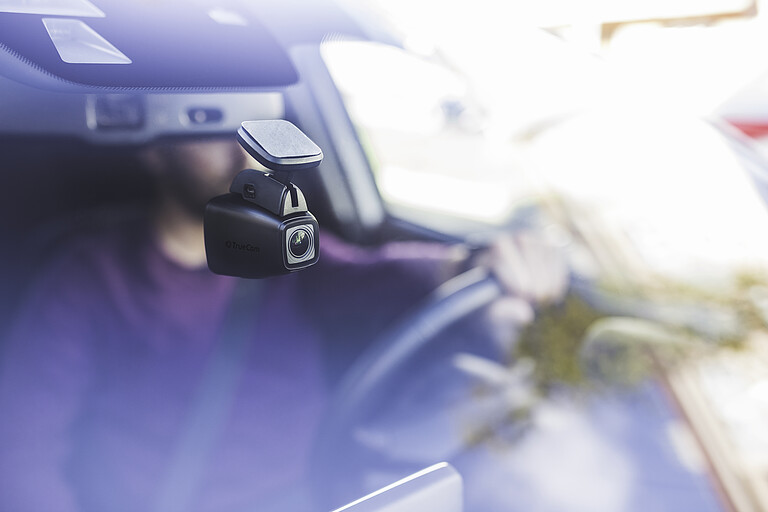 Additional
GPS module

(optional)

If you want to enhance your recordings with additional data such as geotagging or vehicle speed, you can purchase a GPS holder for your camera. Drive speeds can be stamped on the footage so as to avoid any speculation of speeding during an accident or other unpleasant incident. All collected data appears on maps so you can track your vehicle's every move.

More
Quick

to fit

The TrueCam H5 is ready to go in seconds. Installing it couldn't be simpler, thanks to the unique magnetic holder, which you attach to the windscreen. Then you just click the camera in or out in an instant. Plus, there's no need to sort out the charging cable as it is integrated into the holder itself. When attached, the camera starts charging automatically.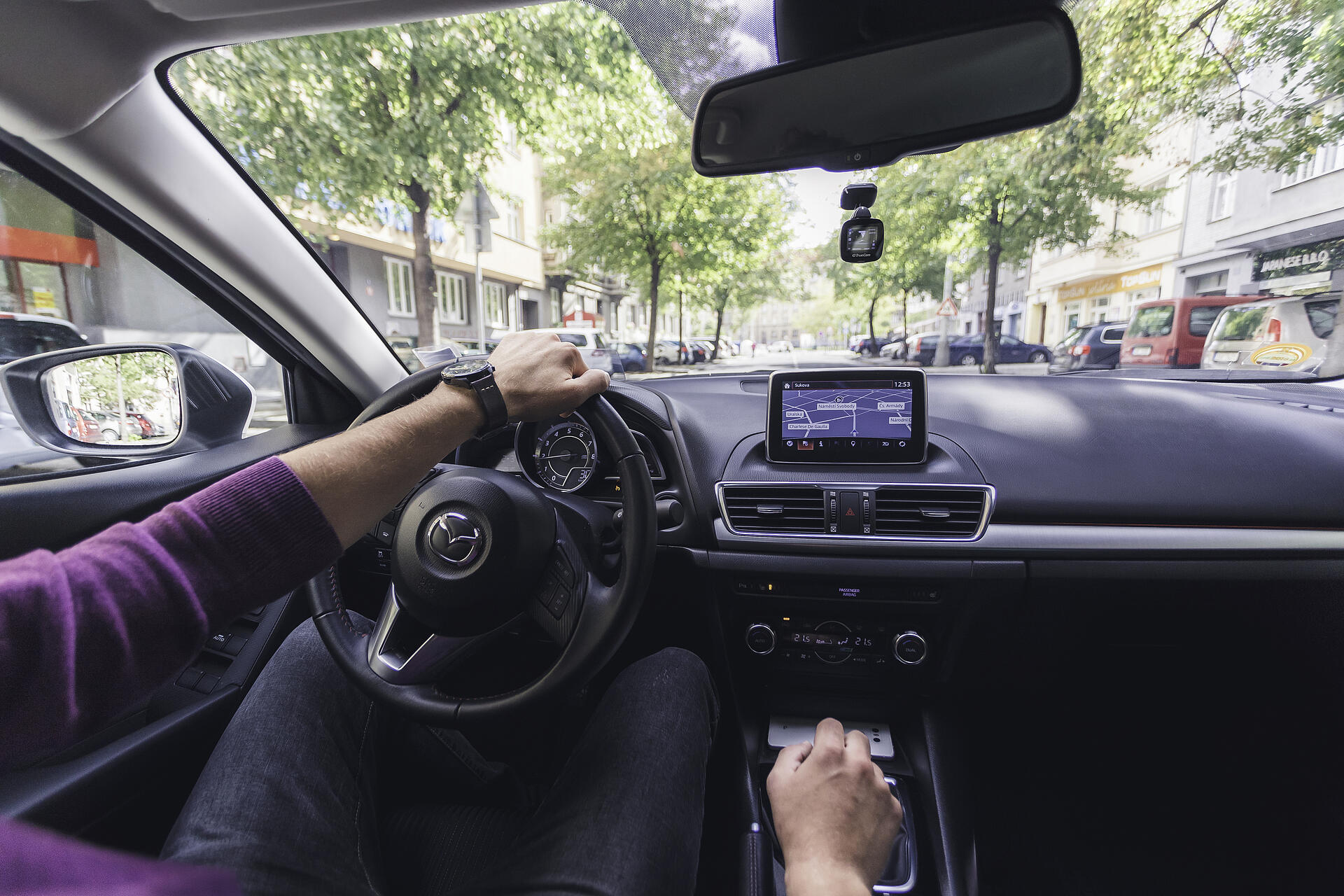 TrueCam H5
It has everything

a proper dashcam should
Motion detection
Whenever the sensor detects movement, the dashcam will automatically start recording all events in front of the car, even while you are away.
More
G-sensor
The G-sensor records the direction you travel in three-dimensional space. This allows it to detect a sudden impact and automatically lock the current shot against being overwritten whilst loop recording.
More
Loop recording
When the memory becomes full, the camera will automatically overwrite the oldest shots. So, there is no need to delete files manually, the camera will take care of it for you.
More
Video protection
To prevent loop recording from overwriting an important shot, at the tap of a button the current recording will be archived to a protected folder.
More
English menu
The menu is intuitive and completely in English. Everyone can operate and set up the camera without a problem.
Auto-start
Whenever the camera detects a power supply, it automatically turns on and starts recording. You won't have to worry about switching it on.
Demonstrations of driving

with a camera
Demo drive with a TrueCam H5 camera

Demo drive with a TrueCam H5 camera at night
Pack

contents
1

TrueCam H5 dashcam

2

Magnetic holder

3

USB Cable

4

3M power cord clip

5

MicroSD / USB Adapter

6

Car charger

7

3M adhesive pad

8

Protective cover

*

Magnetic GPS holder (optional)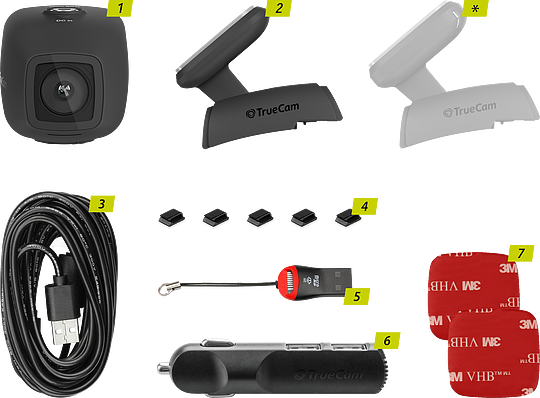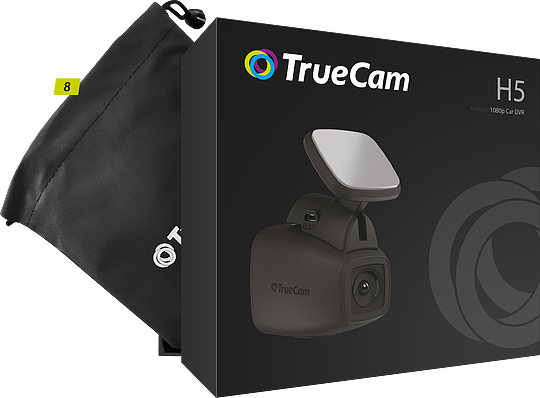 Technical
specifications
Video resolution
1920×1080/30 fps 16:9
1280×720/60 fps 16:9
1280×720/30 fps 16:9
Viewing angle at 1080p
130°
Format and compression
MOV Format
Compression H.264
Sound
Built-in microphone
Display
1,5" option to switch off in the menu
Interchangeable filters
no
Micro SD slot
up to 64 GB
Loop recording
YES
Continuous video without loosing a second
Automatically overwrites oldest file
Select loop lenght
Locking files against overwriting
YES
Turn function on at the touch of a button whilst recording
Auto start
YES
Support auto start when powered on
Automatic shutdown when powered off
Display date and time
YES
Option to turn off
Display speed in video
optional with GPS module
Display location in video
optional with GPS module
Motion detection
YES
ON / OFF
Language
Czech, English, German, Polish, Hungarian, Slovak, Russian, French, Lithuanian
Ports
WiFi 2.4 GHz
Micro SD / USB adapter
Charger - input
12 - 24 V
Charger - output
5 V / 1 A
Dimensions
55 × 45 × 45 mm
Operating temperature
-10°C ~ +50°C
Více informací - cookies