Ready

before you buckle up

For the TrueCam M5 Wi-Fi, we used a revolutionary magnetic mount for the fastest possible setup, and we've used it with the M7 as well. Expect ease-of-use and maximum protection in the form of a locking mechanism, additional to the magnet, that holds the camera firmly in place on even the most damaged roads. This latest dashcam also comes equipped with a magnetic GPS module and lens surround. This makes it simple to attach a magnetic polarizing CPL filter that removes unwanted reflections on the windscreen.
Full HD

full of evidence

The camera can record everything that happens in front of the car in high definition. The ideal 150 ° field of view does not distort the image and important objects such as license plates remain large and legible. The frame rate of 30 frames per second copes well with even fast motion, and the top-quality optical sensor at a resolution of 1080p gives the video true quality.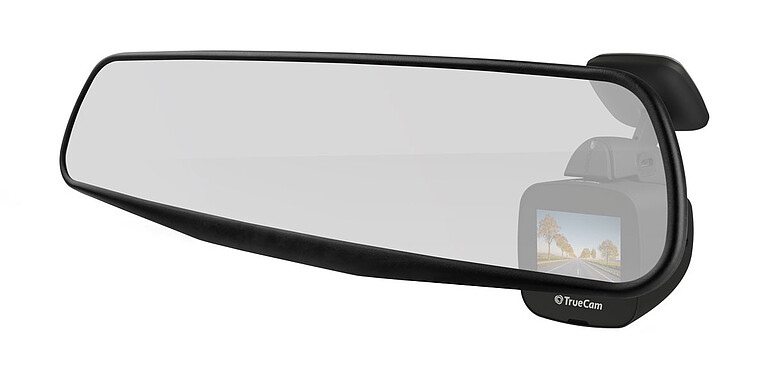 Two cameras

= double protection

The TrueCam M7 keep watch over not only the front, but also the back. An adjustable HD rear camera comes included. Thanks to this, you'll be able to document all the events in front and behind your car. It can also be placed on the windscreen and pointed back inside the car. This makes it easy to shoot what's happening in the vehicle - ideal for taxi drivers.
Avoid

fines

Want to know about fixed speed cameras in 36 countries? With the snap-on magnetic GPS module, you'll no longer be surprised by speed cameras and red-light cameras. We have over 40,000 sites in the database and we are always adding more. Thanks to positioning data, you can also show your speed on the video itself.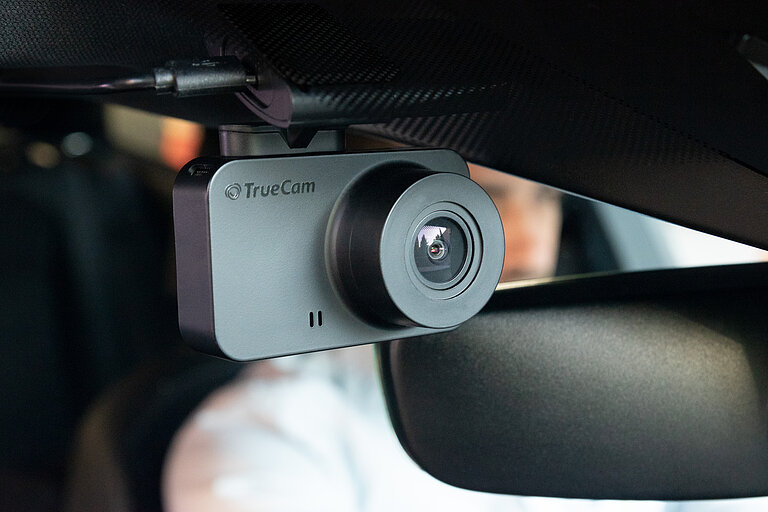 High-quality

night shots

Most dashcams can shoot good footage during the day but fail in low-light conditions. The lens and optical sensor of the TrueCam M7 automatically adjust in low-light and darkness to capture clear video that can be used as evidence in the event of an accident. WDR further helps when exiting a tunnel or encountering an oncoming vehicle.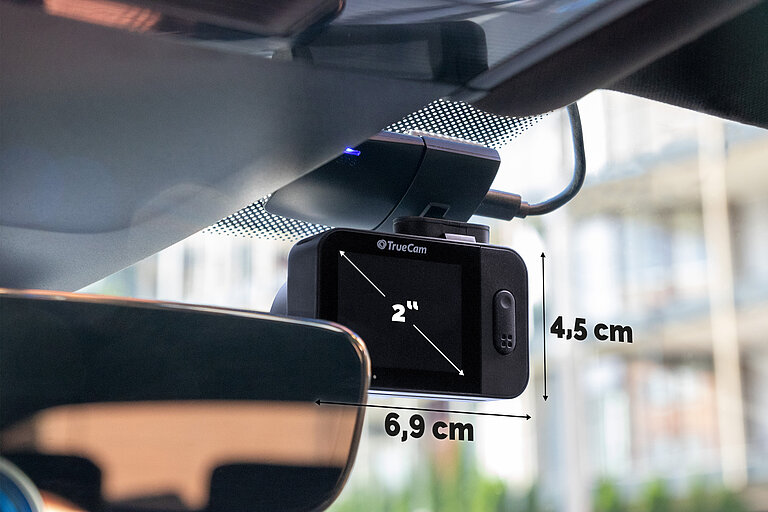 The ideal balance

between size and view

A dashcam should never obstruct your view. At the same time, it's also great when you can take a close look at the shots. That's why we've provided the TrueCam M7 with a highly legible two-inch high-resolution display with a wide viewing angle. Despite this, we've still managed to keep it compact so it won't attract the attention of passers-by.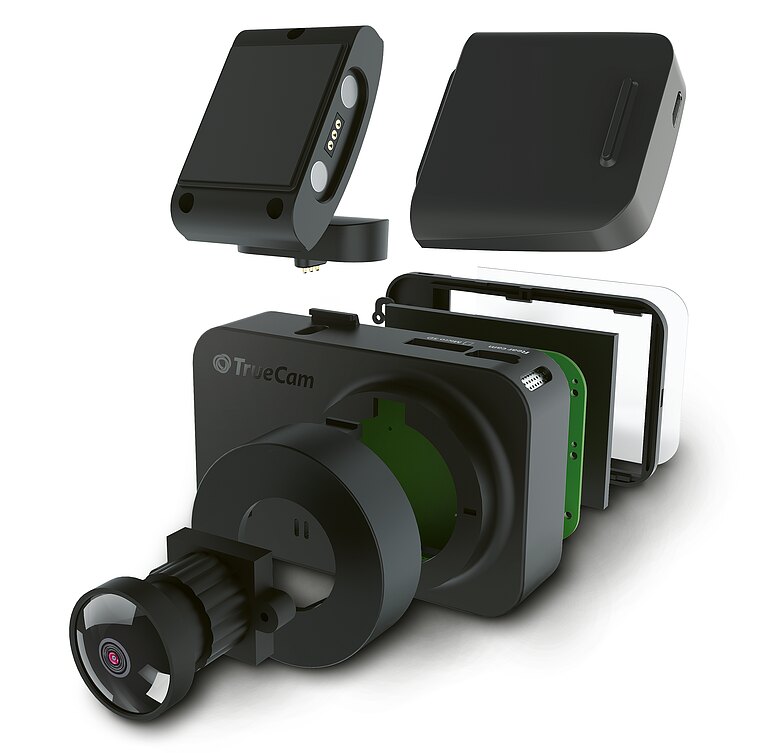 Safe

, long lasting power supply

Instead of a conventional battery, we've used a supercapacitor with a much longer life that can easily cope with temperature changes. Plus, it does not deteriorate over time. To shoot video, the camera must always be connected to a power supply as is standard for dashcams.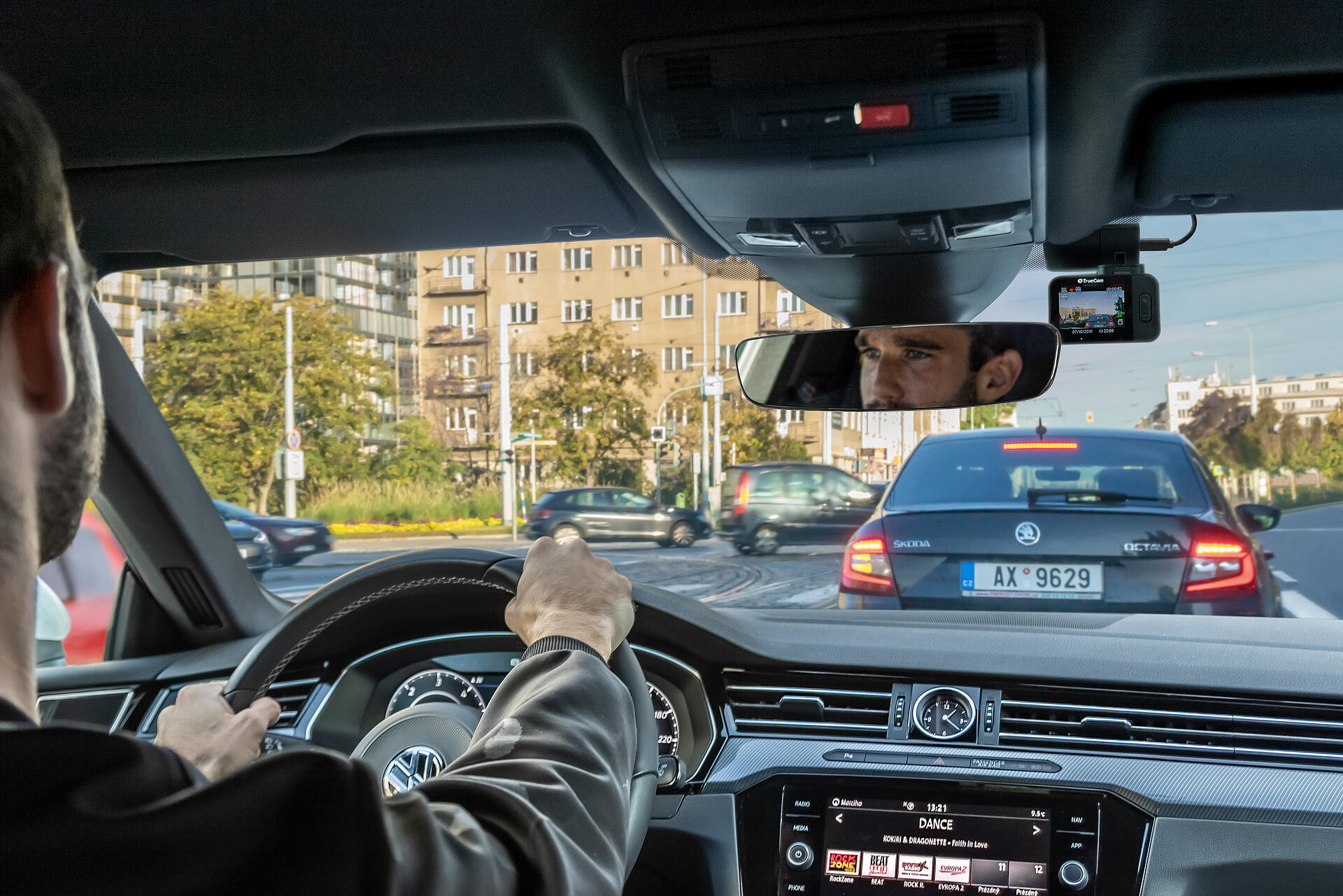 TrueCam M7 GPS Dual
It has everything

a proper dashcam should
Motion detection
Whenever the sensor detects movement, the dashcam will automatically start recording all events in front of the car, even while you are away.
More
G-sensor
The G-sensor records the direction you travel in three-dimensional space. This allows it to detect a sudden impact and automatically lock the current shot against being overwritten whilst loop recording.
More
Loop recording
When the memory becomes full, the camera will automatically overwrite the oldest shots. So, there is no need to delete files manually, the camera will take care of it for you.
More
Video protection
To prevent loop recording from overwriting an important shot, at the tap of a button the current recording will be archived to a protected folder.
More
English menu
The menu is intuitive and completely in English. Everyone can operate and set up the camera without a problem.
Auto-start
Whenever the camera detects a power supply, it automatically turns on and starts recording. You won't have to worry about switching it on.
Demonstrations of driving

with a camera
Demo drive with a TrueCam M7 GPS Dual camera in the day

Demo drive with TrueCam M7 GPS Dual camera at night
Pack

contents
1

TrueCam M7 GPS Dual

2

Inside rear camera

3

Magnetic GPS module

4

Magnetic 3M holder

5

Adapter with two USB outputs

6

Micro USB power cable

7

MicroSD / USB adapter

8

Replacement 3M adhesive pads (2x)

9

3M cable clips (5x)

10

Protective cover

11

Rear camera connection cable

12

Tool for hiding cables

13

USB cable to update the GPS module

*

CPL filter (optional)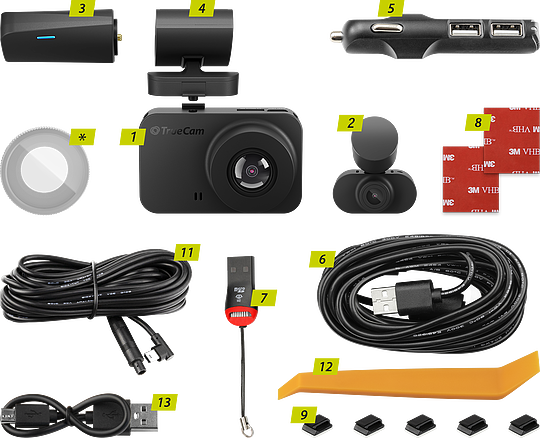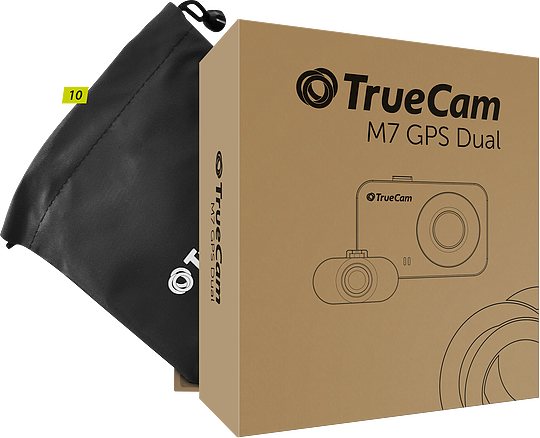 Technical
specifications
Video resolution
1920×1080/30 fps 16:9
1280×720/30 fps 16:9
Rear camera:
1280×720/30 fps 16:9
Viewing angle at 1080p
150°
Rear camera 130°
Format and compression
MOV Format
Compression H.264
Sound
Built-in microphone
Interchangeable filters
optional (CPL)
Micro SD slot
up to 64 GB
Loop recording
YES
Continuous video without loosing a second
Automatically overwrites oldest file
Select loop lenght
Locking files against overwriting
YES
Turn function on at the touch of a button whilst recording
Auto start
YES
Support auto start when powered on
Automatic shutdown when powered off
Display date and time
YES
Option to turn off
Display speed in video
YES
Option to turn off
Display location in video
YES
Option to turn off
Motion detection
YES
ON / OFF
Language
Czech, English, German, Polish, Hungarian, Slovak
Ports
Micro SD / USB adapter
Charger - input
12 - 24 V
Charger - output
5 V / 1 A
Dimensions
69 × 45 × 34 mm
Operating temperature
-10°C ~ +50°C
Více informací - cookies