Driving in
2.5K
More pixels = more security. Whether you are a professional driver or a novice, the TrueCam M9 gives you the upper hand if an incident occurs on your journey. With a 2.5K resolution and 30 frames per second, you are guaranteed plenty of detail on and around the road. All license plates and people will be recognizable, so if needed, you can easily use the video as evidence.
Premium

night shots

Our camera excels when driving in the dark and thanks to its top-of-the-range optical system it beats the competition. Even on a dark roads outside urban areas, the sensor can absorb enough light to see clearly around the car. And the license plates will always remain legible and with minimal glare from oncoming traffic.

More
Save

on fines

Avoid unnecessary fines - with a database of more than 40,000 speed cameras and red-light cameras in 36 countries around the world, you will never be surprised by an unwelcome fine. In addition, we are constantly expanding the database and the updates are always free. Plus, thanks to GPS, you can display the speed directly on the video itself or go over the driving route later.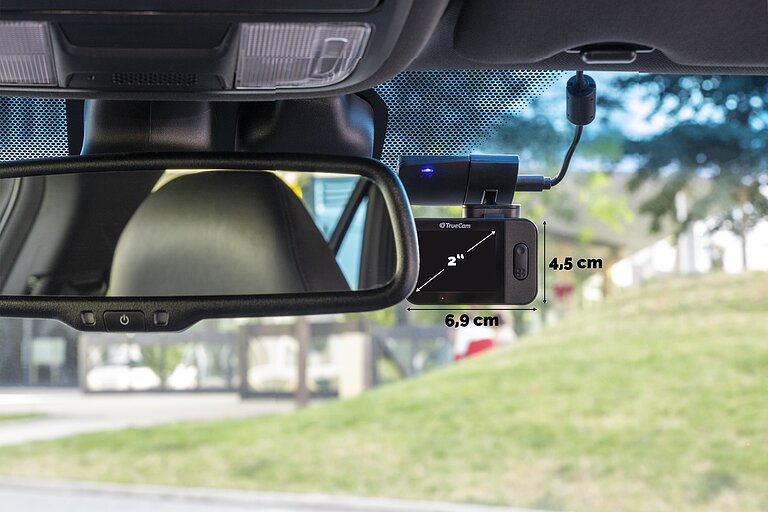 Discreet protection and
easy to install
The TrueCam M9 is designed to be discreet with a narrow profile that allows it to be placed at the top edge of the windscreen behind the mirror. This means it won't obstruct your view and you can safely leave it there when parked up. Attaching the camera with the magnetic holder is lightning fast and convenient - just snap it in or out at any time and it will hold fast whilst driving.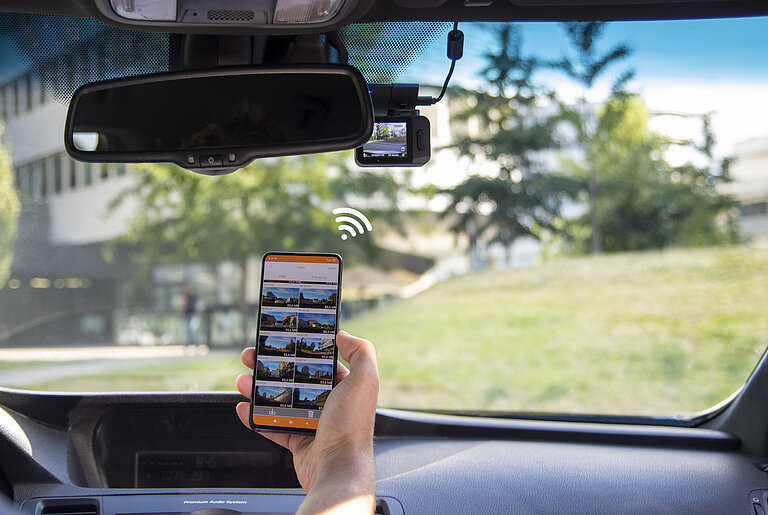 Wireless control via
smartphone
Wi-Fi makes the TrueCam M9 extremely easy to use. All you have to do is pair it with your phone and you won't have to touch it again - an optimized app takes care of everything for you. Forget about cables, simply download videos wirelessly in an instant, and effortlessly change settings.
Durable

and safe

The TrueCam M9 is powered by a supercapacitor instead of a standard battery, which offers a number of benefits. It can handle extreme temperature fluctuations, in the event of an impact it is completely safe and it doesn't deteriorate like a battery so has a much longer service life. A camera with a capacitor must be constantly connected to a power source but this is a matter of course with dashcams.

More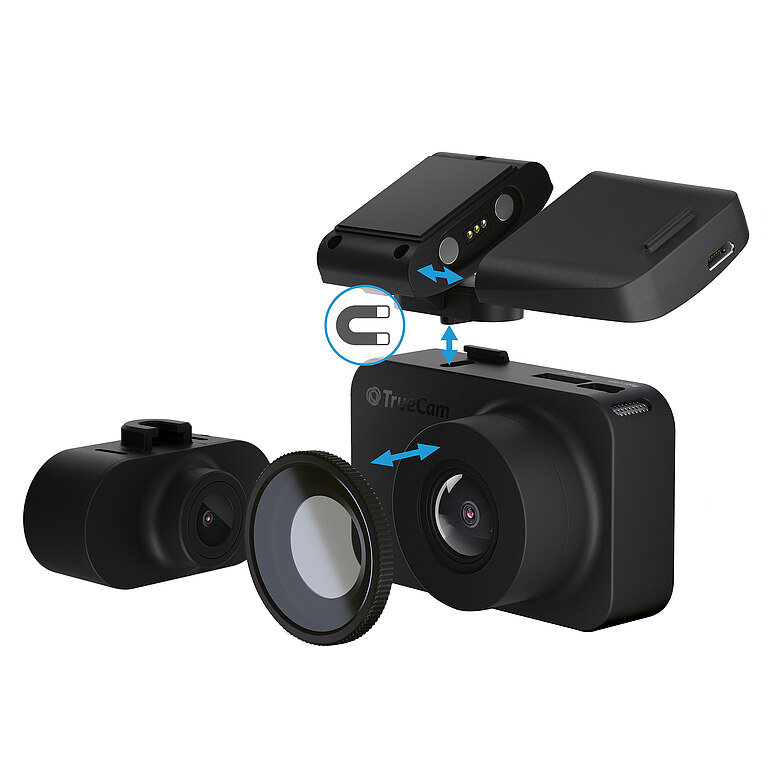 Enhance

with M9 accessories

The TrueCam M9 provides everything you need to protect yourself on the road. But there are still some handy accessories to expand its capabilities even further. For example, a rear-view camera with Full HD recording to watch your back, or a polarizing filter to remove unwanted reflections of the dashboard.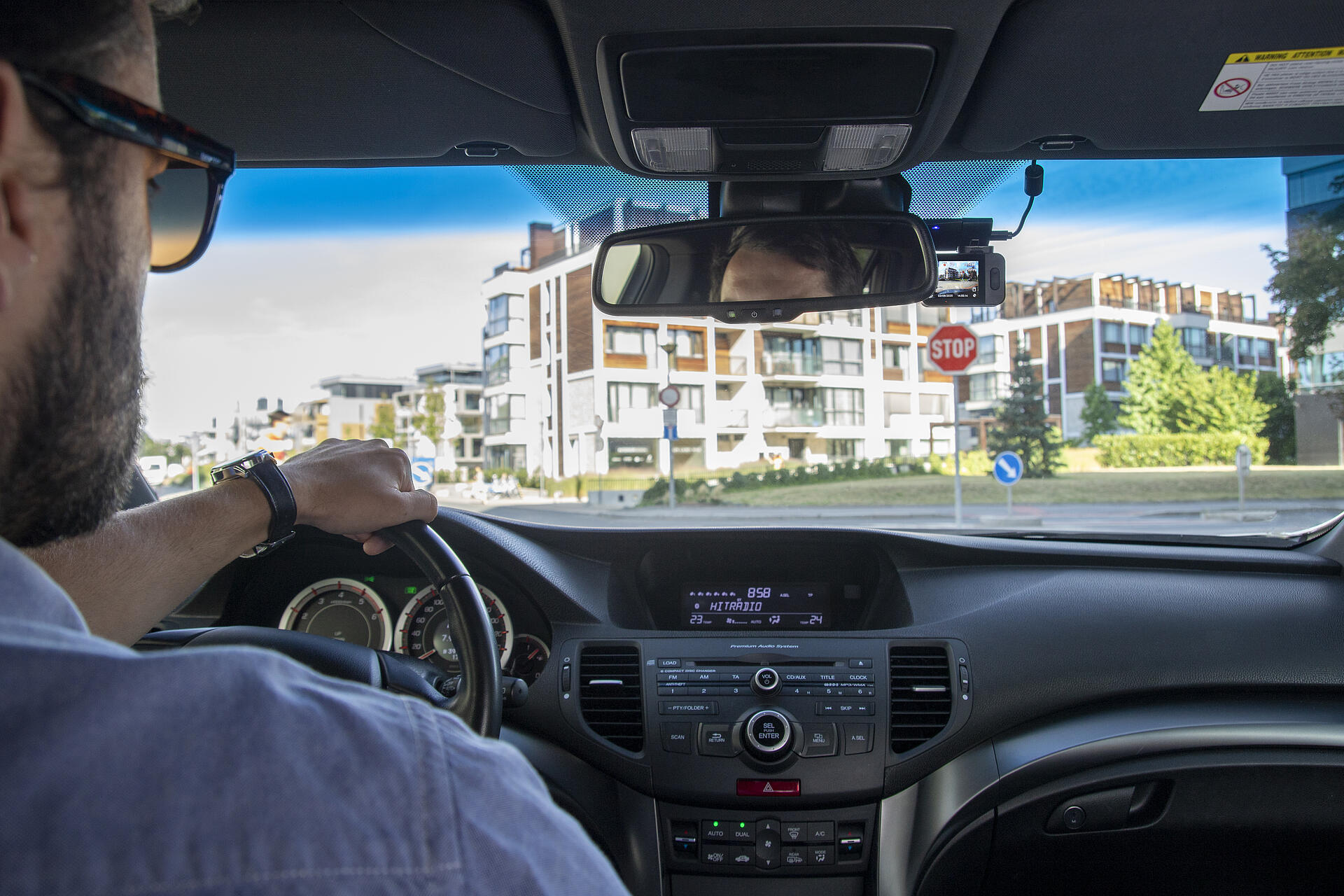 TrueCam M9 GPS 2.5K
It has everything

a proper dashcam should
Motion detection
Whenever the sensor detects movement, the dashcam will automatically start recording all events in front of the car, even while you are away.
More
G-sensor
The G-sensor records the direction you travel in three-dimensional space. This allows it to detect a sudden impact and automatically lock the current shot against being overwritten whilst loop recording.
More
Loop recording
When the memory becomes full, the camera will automatically overwrite the oldest shots. So, there is no need to delete files manually, the camera will take care of it for you.
More
Video protection
To prevent loop recording from overwriting an important shot, at the tap of a button the current recording will be archived to a protected folder.
More
English menu
The menu is intuitive and completely in English. Everyone can operate and set up the camera without a problem.
Auto-start
Whenever the camera detects a power supply, it automatically turns on and starts recording. You won't have to worry about switching it on.
Demonstrations of driving

with a camera
Ukázka jízdy s kamerou TrueCam M5 GPS WiFi ve dne

Ukázka jízdy s kamerou TrueCam M5 GPS WiFi v noci
Pack

contents
1

TrueCam M9 GPS 2.5K dashcam

2

Magnetic GPS module

3

Magnetic 3M holder

4

Adapter with extra USB output

5

Micro USB power cable

6

MicroSD / USB adapter

7

Replacement 3M adhesive pad (2×)

8

3M cable clips (5×)

9

Protective cover

10

USB cable for GPS module update

*

CPL filter (optional)

**

Rear camera (optional)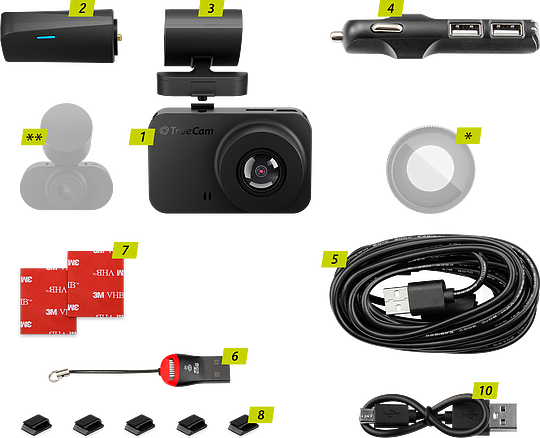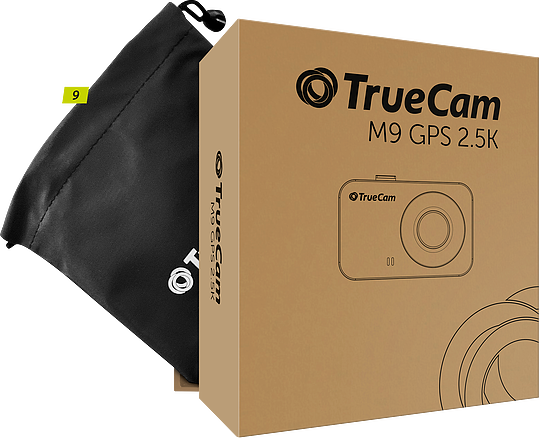 Technical
specifications
Video resolution
2560×1440/30 fps 16:9
1920×1080/30 fps 16:9
Rear camera:
1920×1080/30 fps 16:9
Viewing angle at 1080p
150°
Rear camera 130°
Format and compression
MP4 Format
Compression H.265
Sound
Built-in microphone
Interchangeable filters
optional (CPL)
Micro SD slot
up to 128 GB
Loop recording
YES
Continuous video without loosing a second
Automatically overwrites oldest file
Select loop lenght
Locking files against overwriting
YES
Turn function on at the touch of a button whilst recording
Auto start
YES
Support auto start when powered on
Automatic shutdown when powered off
Display date and time
YES
Option to turn off
Display speed in video
YES
Option to turn off
Display location in video
YES
Option to turn off
Motion detection
YES
ON / OFF
Language
Czech, English, German, Polish, Hungarian, Slovak
Ports
WiFi 2.4 GHz
Micro SD / USB adapter
Charger - input
12 - 24 V
Charger - output
5 V / 1 A
Dimensions
69 × 45 × 34 mm
Operating temperature
-10°C ~ +50°C